Hello Wednesday! In case you haven't noticed, I am now on vacay over in Germany and Prague. Yay!! And to keep you all inspired and busy around the house on decorating projects, I have asked a few of my favourite bloggers to share their word of wisdom from DIY to top decor picks.
I'm super excited to have the incredibly talented DIY Guru, Jennifer Flores of Rambling Renovators, with us today to share her know-how on paint technique. You have read about Jennifer's beautiful home here, now it's your chance to learn on "how to jump start your own project with paint"!
*
*
*
*
*
*
*
*
*
*
*
*
*
*
*
*
*
*
*
*
*
*
*
*
*
*
*
*
*
*
*
*
*
*
*
*
*
*
*
*
*
*
*
*
*
*
*
*
*
*
*
*
*
*
*
*
*
*
*
*
*
*
*
*
*
*
*
*
*
*
*
*
*
*
*
*
*
*
*
*
*
*
*
*
*
*
*
Hi Design Maze readers! I'm happy to be guest posting today while Tim takes a much needed break. Today I thought I'd share some DIY painting tips with you. Tim tells me all the time that he's "not a DIYer" though its hard to believe. I think anyone can learn to DIY - you just need to be willing to make a mistake or two! Painting is a really easy place to start.
When decorating, nothing can transform more than a coat of paint. It can instantly set the mood for a room...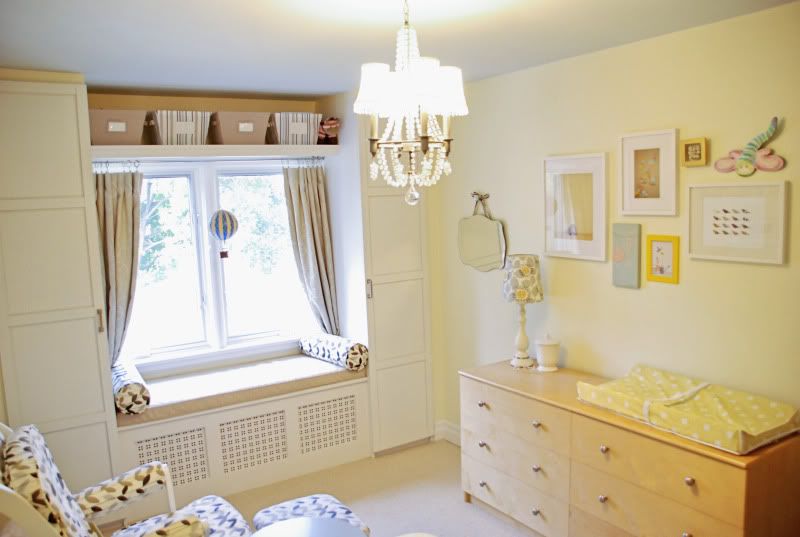 Walls in Benjamin Moore Cream Silk, Ceiling in Summer Shower
or revitalize a piece of furniture...
Hutch in Martha Stewart Schoolhouse Slate, walls in Para Paints Cashmere
When painting, there's a few rules I abide by:
Don't buy the cheap paint. Its harder to work with and you'll end up with a worse looking result
Painting is 80% preparation and 20% painting. Good prep makes the painting part easy.
Once you have that in mind, you're ready to start! Generally, I follow these steps for most painting projects:
- Prep the area. This means clear out any furniture or objects that are in the way. You'll want to cover the floors too. You can buy plastic or canvas drop cloths but I prefer to use this: it's a giant roll of paper from the hardware store and costs about $15. You will get tons of use out of just one roll. Tape it down with painters tape and dispose after use.
- Tape off any edges using painters tape (I like the 3M Scotch Blue Painters Tape). This is optional - if you have a really steady hand you can forgo the tape, for example, at the ceiling or on the door casing.
- Start painting by 'cutting in' the edges. I like to use a 2" angled brush for this. To get straight edges, I like to first get a good amount of paint on the brush and push the paint forward, close to but still a little bit away from the edge...
...then I do a second pass with the brush and drag the paint right into the edge. See how the brush bristles form more of a straight line? You'll get a clean, straight edge this way. (I'm demonstrating this in a corner, but you would use the same technique cutting in near the ceiling or around doorways or windows etc.)
- Make sure you "feather" all the edges. Feathering means soften the paint strokes by brushing away from the edge with your brush. Since the edges you cut in will tend to dry first before you paint the center of the wall, you don't want to have an obvious hard edge around the perimeter.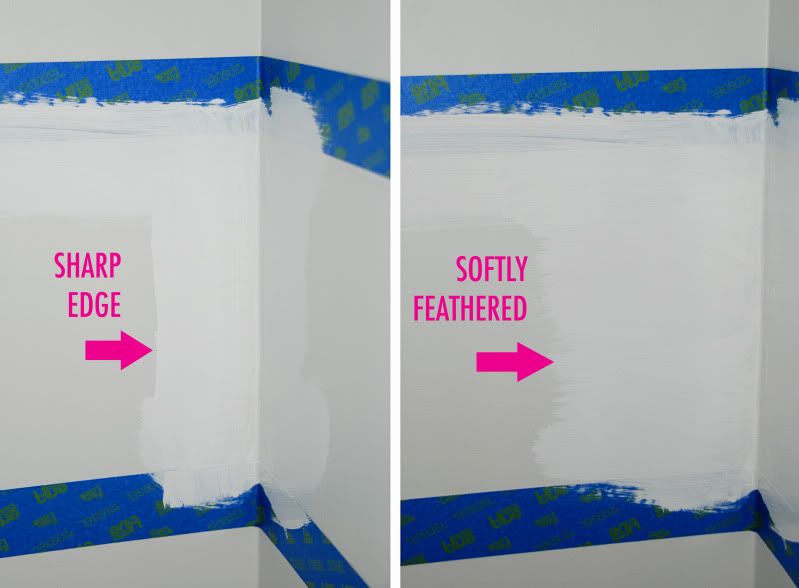 - Once you've finished cutting in all the edges...
...paint in the rest of the area. I like to use a roller to fill in. Rollers leave a nice stipply even texture whereas brushes tend to leave visible strokes. (For this small space, I'm using a dense foam roller. For a larger wall, I would use a fluffier paint roller)
- First coat is done. If you're doing a second coat in a few hours, take your roller and wrap it in a plastic grocery bag and store the bag in the fridge. This will keep the roller moist with paint until you're ready to do the second coat.
- Apply a second coat following the same steps (brush around the edges, roller the middle area).
- Just after you've applied the second coat, remove the painters tape. If you leave the painters tape on too long, it might bond too strongly and remove the paint as well when you try to remove the tape.
- And finally, stand back and admire your handiwork!
See, that wasn't too difficult! Have you completed any painting projects recently?
*
*
*
*
*
*
*
*
*
*
*
*
*
*
*
*
*
*
*
*
*
*
*
*
*
*
*
*
*
*
*
*
*
*
*
*
*
*
*
*
*
*
*
*
*
*
*
*
*
*
*
*
*
*
*
*
*
*
*
*
*
*
*
*
*
*
*
*
*
*
*
*
*
*
*
*
*
*
*
*
*
*
*
*
*
*
*

So that's why I always need to do 4 to 5 coats just to cover dove white with cloud white: I went straight to the edge with a brush full of paint and I didn't feather the edges!! I am in love with Jennifer's designer touch in her broom closet, and I simply can't wait to see her finished basement!
Jennifer and her handyman are writing a book, BLOGGER STYLE. I'm banana crazy about the idea and obviously super excited for Jennifer to add yet another venture to her brand.
Now if you a blogger who has a gorgeous place to show off, submit your home here before September 15!